In the Know – In the Press
O'Sullivan Wright's experts are regularly featured in the media as resources or to contribute their expertise to specific topics and articles.
Vistage Chair Joan Wright launches new private advisory board for chief executives in Charlotte
San Diego, June 12, 2015 – Vistage Chair Joan Wright has recently launched a new chief executive group in the Charlotte, NC market. The new Vistage members will meet monthly to discuss business issues, share expertise, and provide one another confidential help to achieve their goals. Martha Brown, CEO of Tipperary Sales, DBA, La-Z-Boy Furniture Galleries and a member of Wright's group, comments: "I'm a new CEO and knowing I have someone like Joan, with 25 years of CEO coaching experience leading me and our group, provides me with great comfort."
Joan O. Wright Selected as First Female Vistage Chair in Charlotte
Joan O. Wright has been selected as the first female Vistage Chair to serve the Charlotte, NC community, and the second in the state of North Carolina.Wright is in the process of launching her first private advisory group for CEOs, executives and business owners in Charlotte.
"Charlotte is positioned to grow exponentially in the next 5 to 10 years," says Wright. "The potential for this city's finance, energy, aerospace, healthcare, and advanced manufacturing companies is reachable if executives can realize their potential. Vistage is in a unique position to support that potential through the concept of peer advisory."
Recent awards: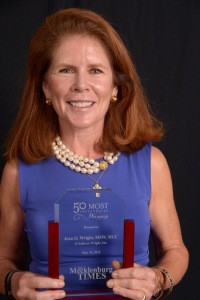 Joan O. Wright, MSW, MCC was honored in May 2014 as one of The Mecklenburg Times "50 Most Influential Women". This award recognizes the important role women play in the greater Charlotte region's economy and society. The honorees represent the most influential women in business, government, education, and not-for-profit fields.  They are selected by a panel of independent business leaders based on professional accomplishment and community involvement within the Charlotte area.  To read the write-up for Joan in the award program, please Click here
Recent Features:
Pursuing Significance In Leadership and Life
Joan was invited by Maria Shriver to Guest Blog featuring lessons from her book, UP – Pursuing Significance in Leadership and Life. Showcased in her "Tips for Transformation," Joan's blog post was picked as Maria Shriver's #2 of her Top 5 Can't Miss Articles in her weekly alert to new postings. Her blog is dedicated to "Ideas, Inspiration & Information for ARCHITECTS OF CHANGE."
Ask the Expert: Communication and Negotiation
In this Linkage Inc's Global Institute for Leadership Development – Monthly Leader interview, Joan's shares how to overcome challenges around Coaching and Mentoring and the skills needed by today's leaders to make a positive influence on others.
Climb to the Summit: Significance lives in Relationships
CHOICE Magazine Feature Expert Article by Joan O. Wright entitled "Climb to the Summit: Significance lives in relationships," founder Joan O. Wright writes about the critical role relationships play and the journey necessary in leading a life and doing work of Significance. CHOICE Magazine is the premier international professional coaching magazine for ICF and IAC reaching more than 25,000 people in 28 countries.
Sophie Magazine Article featuring Summit Advance Model
Sophie MagazineSummit Advance Model featured in July 2012 issue. Regional in Lake Norman, Hickory and North Charlotte. Distribution around 10,000. Readership at 40,000 including online presence.
Other Print Features: